3 maternity styles
to try out based on your body shape
"I wish I could dress like that even when I am pregnant"
Well, you can actually. Being pregnant and having to gain lots of weight should not be the reason you stop dressing like you always do. There is always a thing called being comfortable and looking fancy at the same time. You just have to discover which style works the best. Once you feel confident in what you wear, you will not have the "I wish" anymore.
Let's have a look at some of the maternity fashion tips
you can try according to your body shape.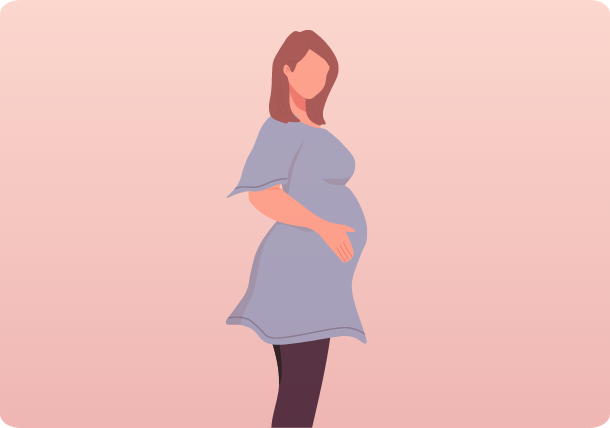 When you have curvy body or a plus-size
Nowadays there are more options available for plus-size pregnant moms clothes. You can try these suggestions:
KNEE-LENGTH SOFT KNIT MATERNITY DRESS
LONG CARDIGAN
This style will highlight your baby bump but also give you freedom to move.
BLACK LEGGINGS
LONG TUNIC OR DRESS
This style can make your legs look longer and not to forget, giving you the best comfort.
When you have a low baby bump
Having a low baby bump usually will make you look more pregnant than you actually are. For the best comfort and confident style you can try these:
SOFT WAISTLINES MATERNITY PANTS
LOOSE T-SHIRT
ACCESSORIES LIKE SCARF
Nowadays you have various types of maternity pants and maternity joggers are one of them. This pants has an elastic waistband and you can also try going with neutral colours like grey or denim to look fancier. This style may look super comfortable and soft but you will still look neat and glamorous.
BLACK MATERNITY JUMPSUIT
(TRY MATCHING IT WITH A STRIPY SHIRT)
Well, for a start a jumpsuit is just so convenient to put on. With the ever-versatile black jumpsuit you can appear sleek and slim. One thing to note, go for something that has easy-to-reach zippers or non-complicated buttons just so you can go to the toilet easier.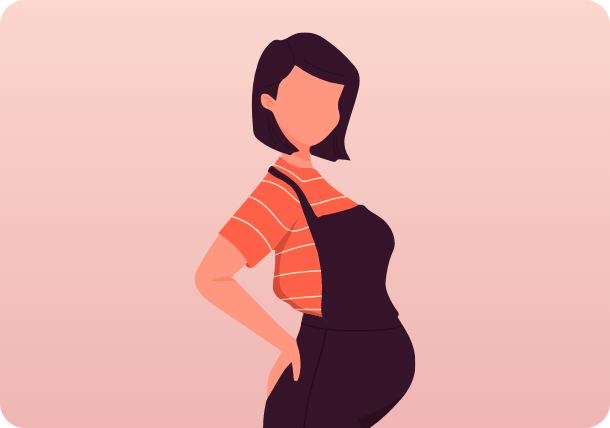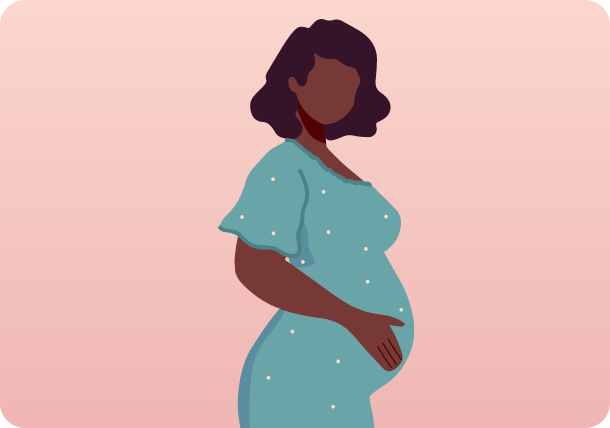 When you have a high baby bump
Carrying high means your baby bump is at your abdomen level. One way to style this body shape is by showing off your baby bump. You can create an obvious separation and definition between your bust and bump. You can use colour-blocked separates or belts.
Get yourselves an airy fabric maxi dress with a nice colour and pattern. You can also pair it with a belt to give your waist some definition. If you're a jacket lover, you can match it with the dress!
HIGH WAIST MATERNITY SKIRT
STRETCHY T-SHIRT
Try this look by getting a cotton (or any comfy material) high waist skirt and match it with a tuck-in maternity top of a different colour so there is clear definition between your breast and baby bump. Lastly, you can grab a breezy cardigan to complete your look.
Need more pregnancy style tips
especially by pregnancy stages? Have a look at this video!
5 ways to change your diet²
to stay healthy throughout pregnancy
Becoming a mother doesn't only start once the baby is born, it starts from the day you plan to conceive. You'll want to do the best you can to make sure everything goes well. Did you know that what you eat during pregnancy not only affects your child, but also your grandchild? So, you better get it right mommies.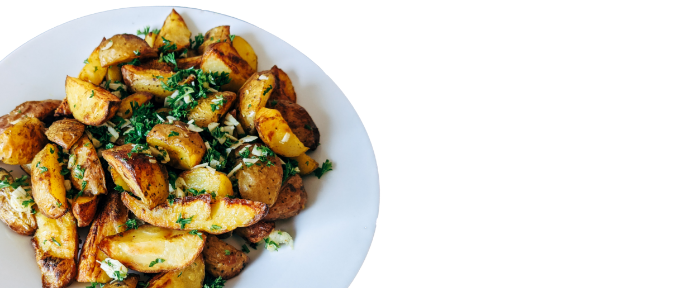 During pregnancy, particularly as you go into the second and third trimesters your body will go through a lot of changes and you need an extra 300 calories each day.
Instead of choosing white bread or white rice, go for the brown rice, dried beans and peas or even potatoes which you can either bake or steam them.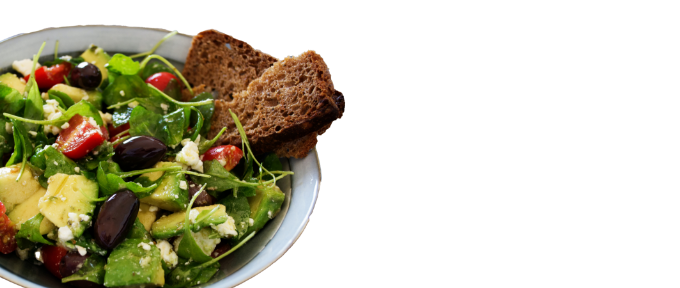 Do you know which of the nutrients help to make new cells and red blood cells for both you and your baby? It's the folic acid!
Folic acid, also known as vitamin B9, is very crucial to your diet. Getting insufficient folic acid can pose risks for your baby to get neural tube defects, where your baby' brain and spinal cord can be damaged. Folic acids can be found in dark leafy vegetables like spinach, kale, romaine lettuce, asparagus and broccoli. A big glass of orange juice will also do the trick.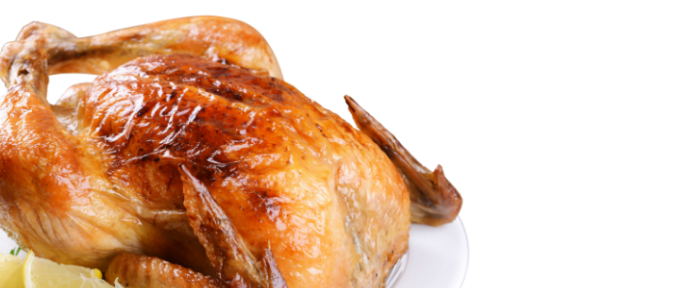 Hate to break it to you but, sushi is out of the need-to-eat list during pregnancy.
You should really avoid raw fish or any uncooked meat because they can increase your risk of getting Toxoplasmosis infections. This infection is commonly caused by the parasite that is present in the uncooked food. This rare disease can cause miscarriage because it can be passed down to the baby. It can also cause stillbirths or eye damage to the baby.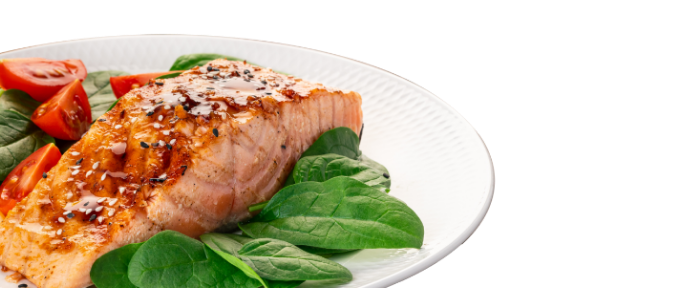 Including DHA (docosahexaenoic acid), or also known as the Omega 3 fatty acids,  in your diet is very crucial. Cooked deep-sea fishes have a very high amount of Omega 3 and DHA.
Why do we need it? DHA is essential to help build your baby's brain, eyes and nervous system. Besides smoked salmon, you can try eating fishes like mackerel, herring, sardine and tuna.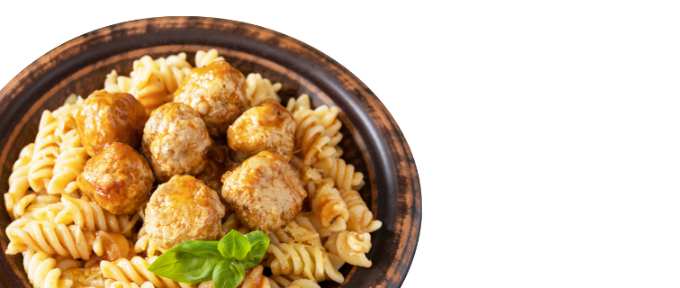 If you're having morning sickness, getting a healthy and well-balanced diet can be a bit challenging.
There will be days that you can only tolerate certain foods. You may feel like eating just potatoes, or breads and pasta instead of the more nutritious foods. But that's okay, it is better to keep your tummy full then empty. You will gradually start to incorporate the healthier food as you go. Also, to help you not skip a meal, you can try setting alarms for food breaks and prepare healthy ready to eat food like dried fruit and nuts somewhere close to you.
Apart from all these, obviously you should also avoid alcohol at all costs.
Your baby can suffer from low birth weight and even learning disabilities.
You can also have a look at this video for a closer look at pregnancy healthy diet goals.
Fact:
Did you know how exactly your baby gets all the nutrients from your diet?
It's through the umbilical cord! The umbilical cord acts as a lifeline between you and your baby throughout the pregnancy and it has precious blood-forming stem cells called Haematopoietic Stem Cells (HSCs) which have been found to have potentials to be used to treat over 80 diseases? Cool right?